Creative Teachers and Classrooms - Unlocking the Potential of Innovative Methodologies to Enhance Teaching: Instructional Leadership
By participating in this Summer Course, participants will gain a range of skills, tactics and strategies that will enhance the teaching and learning in their own classrooms across all subject areas. Participants will be explicitly skilled in a large number of instructional methods that will increase student learning and be facilitated in differentiating instruction to meet diverse needs.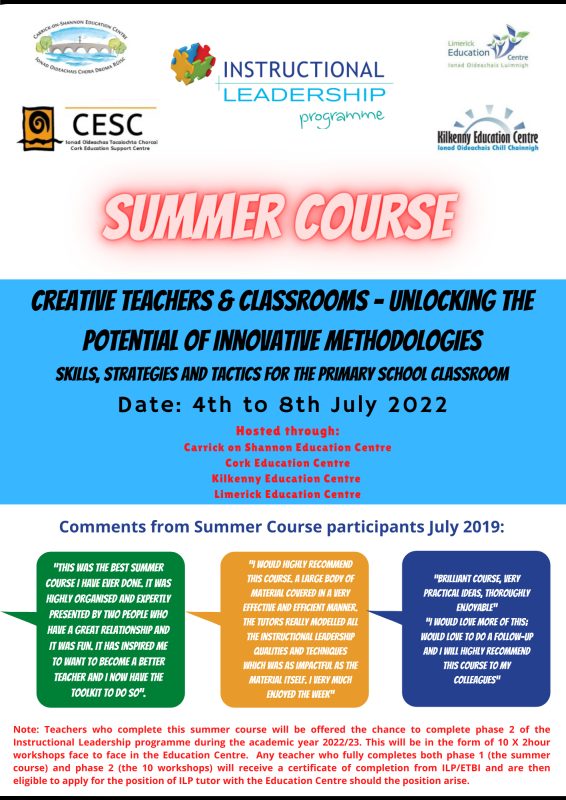 Participants will also become familiar with a wide range of instructional organisers, enhancing their classroom management and organisation skills, resulting in greater participation by all students in all class activities, greater motivation on behalf of students and greater student accountability for their own learning. These strategies are carefully linked to the Looking at Our School (LAOS) standards of highly effective practice and are identified as having measurable impacts on student learning. Leadership in the school will also be enhanced, as participants will be able to bring their learning back to school, where they can share their learning with whole school staff and lead change in instructional practice through modelling and example.
Course Properties
| | |
| --- | --- |
| Course date | 04-07-2022 9:30 am |
| Course End Date | 08-07-2022 2:00 pm |
| Registration Start Date | 25-04-2022 3:30 pm |
| Capacity | 25 |
| Cut off date | 01-07-2022 12:00 pm |
| Individual Price | €50.00 |
| Speaker | Gillian Doyle |
| Number Hours | 20 |
| Location | Kilkenny Education Centre (R95 RH97) |